SEPTEMBER 2018 PRODUCT OF THE MONTH

Model No. PHT-960 Shore A Durometer
Shore A scale is for testing the following materials:
Rubber: Soft vulcanized (ie tire), natural nitrile
Elastomeretric materials (rubber & rubber like): GR-S, GR-1, neopene, thiokol, flexible polyacrylic esters neoprene, thiokol, flexible polyacrilic esters.
Other: Wax, felt, leather etc. (materials that normally yield under fingernail pressure, such as the heel on your shoe).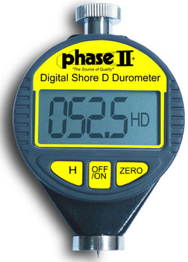 Model No. PHT-980 Shore D Durometer
Shore D scale is for testing the following materials:
Rubber: Hard
Plastics: Harder grades such as rigid thermoplastics, plexiglass, thermoploystrene, vinyl, sheet, cellulode acetate, thermosetting
Laminates (ie fornica)
Other: Paper filled calendar rolls, calendar bowls, etc. (materials that would not normally indent under fingernail pressure, such as a pocket comb or bowling ball).
These gauges do not conform to ASTM D2260 and cannot be certified!!
Specifications:
Measuring range: 0-100 HSA/HSD
Deviation: <1%H
Resolution: 0.5H
Digital read out
Auto Hold feature
HSA<+/-1 grade
Uses 1-SR44 Button Cell Battery
Custom rugged carry case
Designed to test the hardness of Rubbers and Plastics
These sleek hand held hardness testers are crafted and engineered to perform at the highest level of accuracy. An ergonomic lightweight design assists in taking precise and consistent hardness measurements.
URGENT MESSAGE!
Please be advised that due to the current political climate and actions with regard to trade, duties of 25% may be levied upon the products that Phase II currently produces. If this does eventually occur on July 6th as the current govt has proposed, Phase II will be forced to make instant pricing adjustments on most of the product we currently sell, to completely cover the full amount of the duties levied.
We deeply regret any inconvenience this may cause our customers, but unfortunately we have no other course of action to take.
It is our recommendation that you contact your local representative and senator, letting them know how this tariff affects you, your customers and your business.
If you have any questions, please feel free to contact us at any time.
DISTRIBUTOR CORNER:
NOTICE: Distributors: Have an annual open house? Let us know the date, time, and place. Phase II is actively looking to take part in the right events to promote brand and product. Send details to info@phase2plus.com
NOTICE: New Phase II MAPP pricing policy: https://www.phase2plus.com/ mapp-policy.html
Product Line Update