AUGUST 2018 PRODUCT OF THE MONTH
ULTRASONIC THICKNESS GAUGE W/THRU COATING FEATURE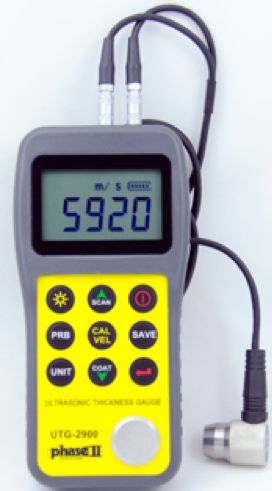 Model No. UTG-2900
Our new State of the art, digital ultrasonic thickness gauge is packed with features typically found on high end models only. This multi-functional ultrasonic thickness gauge offers everything from basic measurement, Thru Coating capabilities, Scanning Capabilities, Adjustable Sound Velocity, extended memory and USB output capabilities. This dynamic ultrasonic thickness gauge is designed to measure the thickness of metallic and non-metallic materials such as steel, aluminum, titanium, plastics, ceramics, glass and any other good ultrasonic wave conductor as long as it has parallel top and bottom surfaces. The UTG-2900 ultrasonic thickness gauge will accurately display readings in either inch or millimeter after a simple calibration to a known thickness or sound velocity.
UTG-2900 ultrasonic thickness gauge comes complete with Base Instrument, 5MHz Echo-Echo Probe, 2oz Bottle of couplant gel, Data Output Software, USB Cable, Certificate of Calibration, Operation Manual and Custom Carry Case.
URGENT MESSAGE!
Please be advised that due to the current political climate and actions with regard to trade, duties of 25% may be levied upon the products that Phase II currently produces. If this does eventually occur on July 6th as the current govt has proposed, Phase II will be forced to make instant pricing adjustments on most of the product we currently sell, to completely cover the full amount of the duties levied.
We deeply regret any inconvenience this may cause our customers, but unfortunately we have no other course of action to take.
It is our recommendation that you contact your local representative and senator, letting them know how this tariff affects you, your customers and your business.
If you have any questions, please feel free to contact us at any time.
DISTRIBUTOR CORNER:
NOTICE: Distributors: Have an annual open house? Let us know the date, time, and place. Phase II is actively looking to take part in the right events to promote brand and product. Send details to info@phase2plus.com
NOTICE: New Phase II MAPP pricing policy: https://www.phase2plus.com/ mapp-policy.html
Product Line Update