Material Testing Instruments, Hardness Testers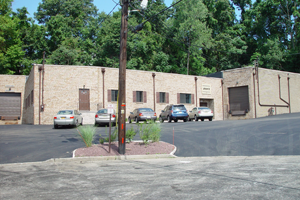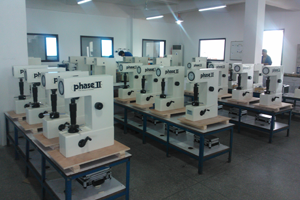 PHASE II IS A LEADING MANUFACTURER OF Hardness testers, portable hardness testers, surface roughness testers, ultrasonic thickness gauges, coating thickness gauges, durometers, vibration meters and force gauge within our material testing instrument division. Then machine tool accessories and precision measuring tools within our tooling division.
The material testing division is anchored by our comprehensive line of hardness testers, which include rockwell hardness testers, portable hardness testers, Brinell hardness testers, and Vickers hardness testers. Surface roughness testers/profilometers are represented by highly precise portable models to accommodate the most popular applications. Ultrasonic thickness gauges are represented with an extensive selection covering the most basic models to the latest in high tech ultrasonic thickness measurement. Coating thickness gauge category is covered by both integrated and external probe systems, the latter with memory, output and software. The probes are all dual use, auto detect type for testing both ferrous and non-ferrous substrates. Digital Shore A durometers and Shore D durometers, along with Shore test blocks, and durometer test stands comprise our Durometer offering. Force gauges are comprised of analog handheld force gauges, ranging up to 100lb/50kg capacity. Vibration meters include a standard gauge for reference purposes and multiple vibration parameters and also a pocket or pen style unit with limited vibration parameters.
Incorporated in 1982 with emphasis on providing the highest quality products, PHASE II has established a world-class reputation for quality and service. We take pride in offering more than just a product. We have "In House" Application Specialists who can guide you through product selection and maintenance. They are fully trained and qualified to give whatever technical support is needed. We also maintain a full range of replacement parts for our products. Testing instruments in our material testing division are backed with a 5 year warranty and free lifetime technical support. Machine tool accessories are backed by a 2 year warranty, while the precision measuring tools are backed by a 1 year warranty. All service is handled in our Phase II USA HQ. Warranty registration can be found HERE
Phase II now provides "Specialty Product Manufacturing & Development". Our team will work with you on any type of merchandise from the design stage through its successful completion.
Gage Calibration and Certifications services are also available.
Phase II is continuously adding on new items to its product line. Our Metrology/Material Testing Division is a prime example of our dedication to bringing you the latest in technology at competitive prices. Visit our website frequently for updates on new items.
Phase II currently publishes a monthly newsletter. Register here Further, Phase II can be found throughout social media, such as Facebook, youtube and Linkedin. Friend us on them and stay updated on product and policy releases.
Phase II exhibits in major tradeshows throughout the USA, Canada & Mexico. If you are in the area, stop by our booth and see first hand why Phase II is your source of quality.
"Management Team"
Brett Gitter – Vice-President – bgitter@phase2plus.com
Neil Gitter – Sales Manager – ngitter@phase2plus.com
Affiliations: