NOVEMBER -PRODUCT of the MONTH!
NEW! Rockwell Hardness Tester
Model No. 900-384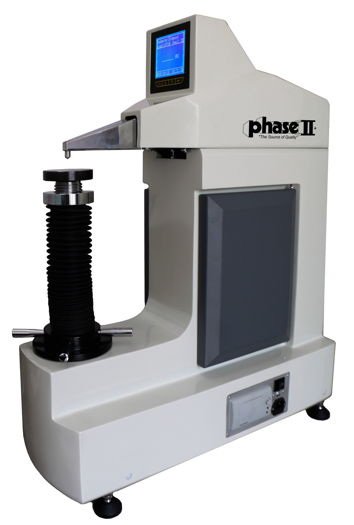 TWIN Rockwell/Superficial Rockwell
Extended dolphin nose allows vertical hardness test height of 11.8" and throat depth of 8.6". Closed Loop-Load Cell Technology!
Hardness Tester Basic Functions:
Twin hardness tester –Regular Rockwell & Superficial Rockwell hardness test for metal and plastic material.
Horizontal dolphin nose Indenter is suitable for internal and external hardness testing.
Rockwell Hardness Testing on Surfaces difficult to reach. Hardness Testing internal surface of rings and tubes.
Provided with many features such as high measuring precision, wide measuring range with 30 Rockwell scales.
The Rockwell hardness tester is suitable for testing of carbon steel, alloy steel, cast iron, non-ferrous metal.
Measuring results digitally displayed and can be printed with its built-in thermal Mini-Printer.
Test Rockwell value can be converted to the value of HB, HV, HK and σb value.
The tester adheres to the following standards: ISO 6508-2, ASTM E18.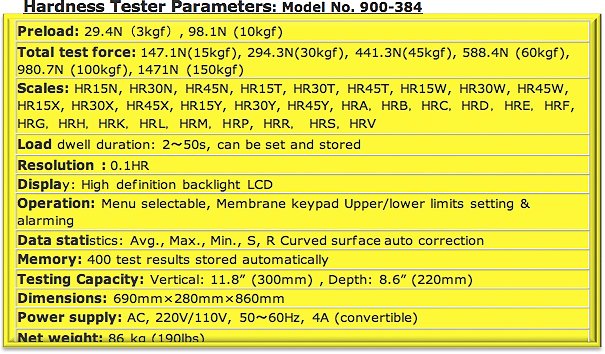 URGENT MESSAGE!
Please be advised that due to the current political climate and actions with regard to trade, duties have been levied upon certain products that Phase II currently produces. As of July 6, 2018, Phase II was forced to make instant pricing adjustments on most of the product we currently sell, to completely cover the full amount of the duties levied. Further, as of September 24, 2018, the balance of product Phase II manufactures was levied other customs duties , all of which are detailed below:
July 6, 2018 – 25% Hardness Testers, Force gauges, machine tool accessories, all parts and accessories for these products groups.
September 24, 2018 – 10% All other testers, instruments, and precision tools, including all parts and accessories for these product groups.
We deeply regret any inconvenience this may cause our customers, but unfortunately we have no other course of action to take. It is our recommendation that you contact your local representative and senator, letting them know how this tariff affects you, your customers and your business. If you have any questions, please feel free to contact us at any time.
DISTRIBUTOR CORNER:
NOTICE: Distributors: Have an annual open house? Let us know the date, time, and place. Phase II is actively looking to take part in the right events to promote brand and product. Send details to info@phase2plus.com
NOTICE: New Phase II MAPP pricing policy: https://www.phase2plus.com/ mapp-policy.html
Product Line Update