DECEMBER -PRODUCT of the MONTH!
Ultrasonic Portable Hardness Tester
UCI/Dynamic Hardness Tester
Series 6000
Non-Destructive Hardness Testing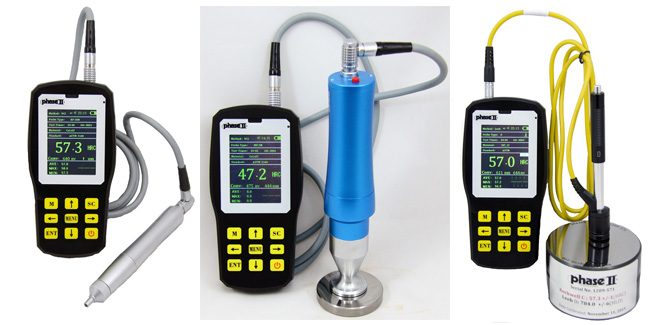 Features:
Non-Destructive hand held portable hardness tester
Combines UCI and Leeb portable hardness testing in one state of the art device
Test steel with min thickness of .08" and unlimited max thickness (Other materials may have larger minimum thickness levels, depending on hardness)
Blazing fast test results
Rockwell, Brinell and Vickers hardness test conversions shown on display
Large Memory w/USB Output
Choice of manual UCI probes; 1kg, 2kg, 5kg & 10kg
Optional Motorized Probes: .30kg, .80kg, & 1kgf
Available Impact Devices(Leeb) D, DC, D+15, G & DL
MEASURING METHOD: UCI & Leeb Portable Hardness Testers
There are two basic methods of portable hardness testing that is accepted in the field today.
"Ultrasonic Contact Impedance" is based on a 136 degree diamond at the end of a vibrating rod being depressed into the test surface at a fixed load. The difference in Ultrasonic vibration frequency is then calculated into a hardness value. The UCI portable hardness tester procedure is slower than the Dynamic Impact style, however the "UCI" method of hardness testing is portable, easy and accurate. It also has its own advantages when utilized for certain testing applications. UCI portable hardness testers are not restricted to large mass items like dynamic type testers. These portable hardness testers can test metals as thin as 2mm and at a hardness value as low as 20HRC (75HB). They also excel at performing hardness tests on larger, harder metals as well. Another reason for the rise in popularity is due to the fact that the UCI method is categorized as "Non-Destructive". That translates into less scrap parts/ lower mfg costs due to necessary inspections.
"Dynamic Impact" is based on the Leeb principle of portable hardness,developed by Dietmar Leeb in the 1970's. A spring loaded impact body is thrust to the test surface, effecting rebound. The speed of both the initial thrust and the rebound is measured in a non-contact mode. This is calculated as a Leeb hardness value and then automatically converted to Rockwell C, B, Brinell, Vickers and Shore Values. It has effectually brought easy, fast and accurate results to portable hardness testing
UCI Portable Hardness testers

LEEB Portable Hardness Testers

URGENT MESSAGE!
Please be advised that due to the current political climate and actions with regard to trade, duties have been levied upon certain products that Phase II currently produces. As of July 6, 2018, Phase II was forced to make instant pricing adjustments on most of the product we currently sell, to completely cover the full amount of the duties levied. Further, as of September 24, 2018, the balance of product Phase II manufactures was levied other customs duties , all of which are detailed below:
July 6, 2018 – 25% Hardness Testers, Force gauges, machine tool accessories, all parts and accessories for these products groups.
September 24, 2018 – 10% All other testers, instruments, and precision tools, including all parts and accessories for these product groups.
We deeply regret any inconvenience this may cause our customers, but unfortunately we have no other course of action to take. It is our recommendation that you contact your local representative and senator, letting them know how this tariff affects you, your customers and your business. If you have any questions, please feel free to contact us at any time.
DISTRIBUTOR CORNER:
NOTICE: Distributors: Have an annual open house? Let us know the date, time, and place. Phase II is actively looking to take part in the right events to promote brand and product. Send details to info@phase2plus.com
NOTICE: New Phase II MAPP pricing policy: https://www.phase2plus.com/ mapp-policy.html
Product Line Update