MARCH 2021 PRODUCT OF THE MONTH
ULTRASONIC THICKNESS GAUGES
THE MOST POPULAR THICKNESS GAUGES IN THE USA TODAY!
5-Year
Warranty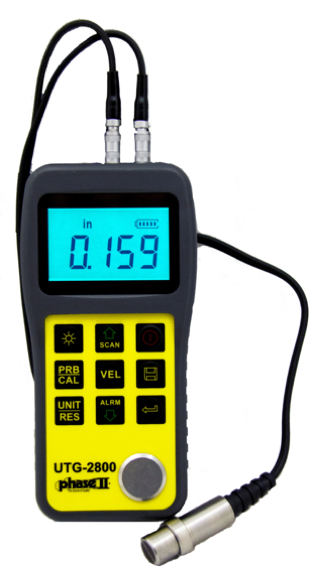 Model No. UTG-2800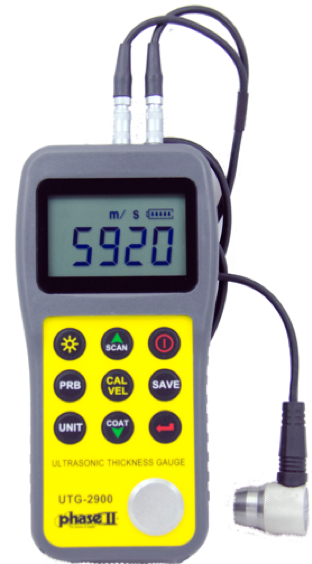 Model No. UTG-2900
Reads thru Coatings!
(2900 model only)
State of the art, digital ultrasonic thickness gauge is packed with features typically found on high end models only. This multi-functional ultrasonic thickness gauge offers everything from basic measurement, Scanning Capabilities, Adjustable Sound Velocity, extended memory and USB output capabilities. This dynamic ultrasonic thickness gauge is designed to measure the thickness of metallic and non-metallic materials such as steel, aluminum, titanium, plastics, ceramics, glass and any other good ultrasonic wave conductor as long as it has parallel top and bottom surfaces. The UTG-2800/2900 ultrasonic thickness gauge will accurately display readings in either inch or millimeter after a simple calibration to a known thickness or sound velocity.
Specifications:
Display type: 4-digit LCD w/Back Light
Minimum display unit: 0.001″/0.01mm (selectable)
Measuring Range-2800: starts from 0.040″ to 12″ in steel w/standard probe
Measuring Range-2900: Pulse-Echo: 0.025″ -23.0″ in steel; Echo-Echo: .118″ -3.50″ Can measure up to 90mm(3.5″) of steel while going through 900 micron (.035″) (35mils) of coating.
Accuracy: +/- (0.5% thickness + .001″)
Sound velocity range: 3280-32805 ft/s (1000-9999m/s)
Operating temperature: 32-122 degrees F
Frequency: 5MHz
Update range: 4Hz
Memory: 20 Groups (100 files/group)
Output: USB
Mini-Printer: Optional
Power supply: 3v AA alkaline batteries (2pc)
Battery life: Approx. 100 hours (w/backlight off)
Power consumption: Working current is less than 3V
Dimensions: 5.90″ x 2.91″ x 1.30″ (150 x 74 x 33mm)
Weight: 8.6oz (245g)
Check out these new hardness testers!
New Price List Available! Send email request to info@phase2plus.com
Product Line Update
Twin Rock/Superficial Rock Digital Closed Loop Hardness Tester with Auto Z axis
Model: 900-389
Notes: NEW!
Precision Coating Thickness Gauge w/ single Auto detect probe, memory, output & software
Model: PTG-5500
Notes: NEW!
Calling All Calibration Labs
Phase II is looking to partner with leading calibration labs throughout the world. Phase II will add your company to our reference list. Provide any/all technical support on Phase II instruments and offer discount program for sales of Phase II product.
Call 201-962-7373
and get set up today!
DISTRIBUTOR CORNER:
NOTICE: Distributors: Have an annual open house? Let us know the date, time, and place. Phase II is actively looking to take part in the right events to promote brand and product. Send details to info@phase2plus.com
NOTICE: New Phase II MAPP pricing policy:
View here
NOTICE: Digital Rockwell Hardness Testers will no longer include HRA test blocks as standard accessories. They will however be available as an option.
CHECK THESE PRODUCTS OUT!