JUNE 2019 PRODUCT OF THE MONTH
PTG-4000 Coating Thickness Gauge
COATING THICKNESS MEASUREMENT WITH COLOR FLIP DISPLAY!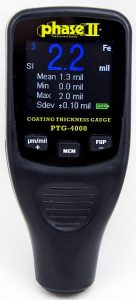 The PHASE II PTG-4000 coating thickness gauge can perform two different methods of calculating thickness measurement by utilizing the characteristics of both eddy current and magnetic induction.
Testing performance is both non-destructive and extremely accurate.
With this state of the art coating thickness gage, you can easily detect the thickness of nonmagnetic coating on a magnetic substrate (ferrous) or an insulating coating on a non-magnetic conductive substrate (non-ferrous) utilizing our auto-detect, integrated probe.
The PTG-4000 coating thickness gauge can be used in many areas of industry including automotive auctions, manufacturing, general engineering, commercial inspection, etc.
Main Technical Data
Measuring range: 0-1,250 µm max. or 0-50 mils
Resolution: 1 µm / 0.1mils
Accuracy: +/- 3% + 2 µm ( +/-3%+0.1 mil )
Display: 3 digit color LCD
Statistics: Min/Max, Average, Std Deviation
Single or Continuous Measurement (Selectable)
Min. measuring area: 0.2″ x 0.2″ (5mm x 5mm)
Min. radius of curvature: Convex: 0.12″ (3mm) Concave: 1.2″ (30mm)
Min. substrate thickness: Ferrous: 20 mils (0.5mm) Non-ferrous: 2 mils (50 µm)
Max. Surface temperature of test object: 302 degrees F (contact time max is 2 seconds)
Power source: 2-AAA batteries
Dimensions: 100 x 52 x 29mm
Weight: 2.4oz. (w/o Batteries)
The PTG-4000 coating thickness gauge utilizes an integrated probe that can automatically detect a Ferrous or Non-Ferrous substrate and comes with 2 substrate samples(steel,aluminum), 4 calibrated thickness samples, carry case, batteries and operation manual.