JULY 2018 PRODUCT OF THE MONTH
3 New Models
ROCKWELL/SUPERFICIAL
TWIN ROCKWELL
SUPERFICIAL ROCKWELL

Load Cell, Closed Loop, Touch Screen Functions
w/ One Touch Testing Feature!
Features:
These digital Rockwell hardness testers with fully automated load/unload procedures affords highly sensitive and accurate readings. Micro-computer controlled Touch Screen with USB output to PC. These digital Rockwell hardness testers offers programmable scale conversions, dwell times, statistical capabilities and test counter. Capable of testing in all of the regular Rockwell and /or superficial Rockwell hardness scales.
Entire Rockwell Hardness Test Cycle Performed Automatically.
Direct Loading Method with Load-Cell Instead Of Dead Weight System.
High Speed Test Cycle and Extremely Accurate Loading Control
Automatic conversions to HB, HV, Superficial/standard Rockwell Scales
Touch Screen selectable system
Upper/Lower Limit Settings
Specifications:
Model No. 900-367 Rockwell Hardness Tester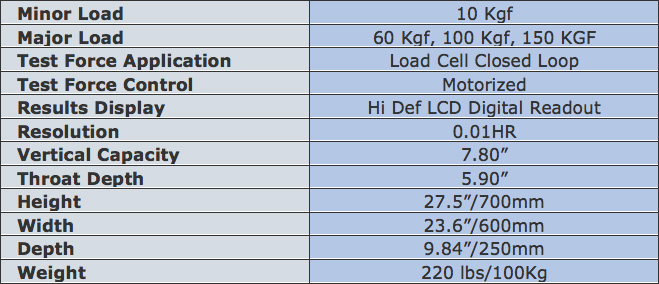 Model No. 900-346 Superficial Rockwell Hardness Tester

Model No. 900-387 TWIN Rockwell/Superficial Hardness Tester

Accessories: Included with all 3 models

URGENT MESSAGE!
Please be advised that due to the current political climate and actions with regard to trade, duties of 25% may be levied upon the products that Phase II currently produces. If this does eventually occur on July 6th as the current govt has proposed, Phase II will be forced to make instant pricing adjustments on most of the product we currently sell, to completely cover the full amount of the duties levied.
We deeply regret any inconvenience this may cause our customers, but unfortunately we have no other course of action to take.
It is our recommendation that you contact your local representative and senator, letting them know how this tariff affects you, your customers and your business.
If you have any questions, please feel free to contact us at any time.
DISTRIBUTOR CORNER:
NOTICE: Distributors: Have an annual open house? Let us know the date, time, and place. Phase II is actively looking to take part in the right events to promote brand and product. Send details to info@phase2plus.com
NOTICE: New Phase II MAPP pricing policy: https://www.phase2plus.com/ mapp-policy.html
Product Line Update