JUNE 2018 PRODUCT OF THE MONTH
ROCKWELL HARDNESS TESTER THE INDUSTRY STANDARD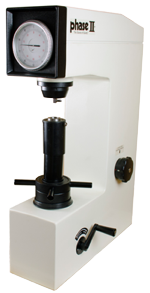 Model No. 900-331
This hardness tester comprises the very best in "state of the art" design along with dynamic precision only found at Phase II. The 900-331 Rockwell scale hardness tester is easy to operate, yet engineered to obtain highly sensitive and accurate readings. Conforming to ASTM E-18 Rockwell Hardness standards, the 900-331 tester will offer unmatched repeatability in all standard Rockwell Hardness scales . A perfect, rugged performer suited for any environment including at treat facilities, tool rooms, workshops, laboratories and inspection labs. Lifetime technical support is included on all Phase II Hardness Testers. So test away with confidence and a level of accuracy you will only find at Phase II.
Features:
Direct analog dial reading
Advanced design, easy to operate
Engineered to obtain highly sensitive and accurate readings
Conforms to ASTM E-18
Perfect for laboratories, workshops, tool rooms, inspection labs, etc.
Specifications:
Minor Load

Major Load

Test Force Application

Test Force Control

Results Display

Vertical Capacity

Throat Depth

Height

Width

Depth

Shipping Weight

10Kgf

60Kgf, 100Kgf, 150Kgf

Dead Weight

Hydraulic Dashpot System

Analog Dial Gage

6.7 in.

6.6 in.

30.0 in.

8.50 in.

20.0 in.

242 lbs.
Accessories:
C-scale Diamond Indentor
1/16″ Ball Indentor
3- HRC Test Blocks
1- HRB Test Block
1-HRA Test Block
Test Table 5.87″ (150mm)
Flat Anvil 2.5″ (63mm)
Std. Vee Anvil
Accessory Case
Dust Cover
DISTRIBUTOR CORNER:
NOTICE: Distributors: Have an annual open house? Let us know the date, time, and place. Phase II is actively looking to take part in the right events to promote brand and product. Send details to info@phase2plus.com
NOTICE: New Phase II MAPP pricing policy: https://www.phase2plus.com/ mapp-policy.html
Product Line Update