MARCH 2018 PRODUCT OF THE MONTH
PTG-400 COATING THICKNESS GAUGES Coating thickness measurement with Color Flip Display!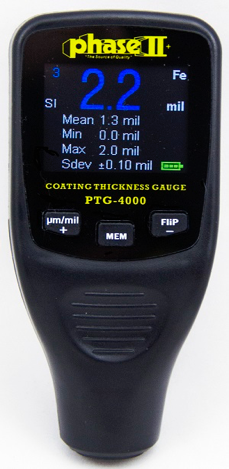 The PHASE II PTG-4000 coating thickness gauge can perform two different methods of calculating thickness measurement by utilizing the characteristics of both eddy current and magnetic induction.
Testing performance is both non-destructive and extremely accurate.
With this state of the art coating thickness gage, you can easily detect the thickness of nonmagnetic coating on a magnetic substrate (ferrous) or an insulating coating on a non-magnetic conductive substrate (non-ferrous) utilizing our auto-detect, integrated probe
The PTG-4000 coating thickness gauge can be used in many areas of industry including automotive auctions, manufacturing, general engineering, commercial inspection, etc.
Main Technical Data
Measuring range: 0-1,250 µm max. or 0-50 mils
Resolution: 1 µm / 0.1mils
Accuracy: +/- 3% + 2 µm ( +/-3%+0.1 mil )
Display: 3 digit color LCD
Statistics: Min/Max, Average, Std Deviation
Single or Continuous Measurement(Selectable)
Min. measuring area: 0.2″ x 0.2″ (5mm x 5mm)
Min. radius of curvature: Convex: 0.12″ (3mm) Concave: 1.2″ (30mm)
Min. substrate thickness: Ferrous: 20 mils (0.5mm) Non-ferrous: 2 mils (50 µm)
Max. Surface temperature of test object: 302 degrees F (contact time max is 2 seconds)
Power source: 2-AAA batteries
Dimensions: 100 x 52 x 29mm
Weight: 2.4oz. (w/o Batteries)
The PTG-4000 coating thickness gauge utilizes an integrated probe that can automatically detect a Ferrous or Non-Ferrous substrate and comes with 2 substrate samples(steel,aluminum), 4 calibrated thickness samples, carry case, batteries and operation manual.
DISTRIBUTOR CORNER:
NOTICE: Distributors: Have an annual open house? Let us know the date, time, and place. Phase II is actively looking to take part in the right events to promote brand and product. Send details to info@phase2plus.com
NOTICE: New Phase II MAPP pricing policy: https://www.phase2plus.com/ mapp-policy.html
Product Line Update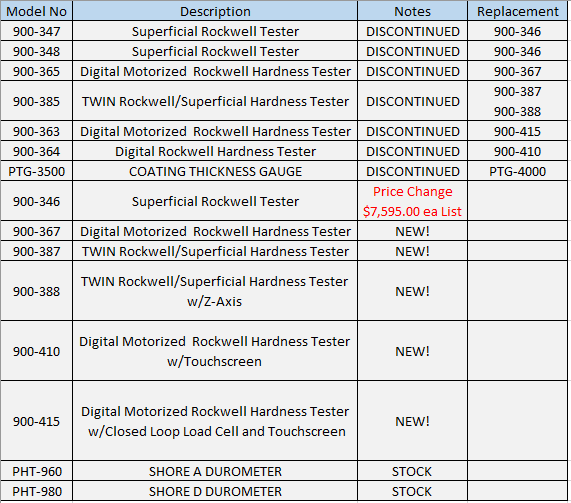 New Price List Available!