MAY 2022 PRODUCT OF THE MONTH
PORTABLE BRINELL HARDNESS TESTER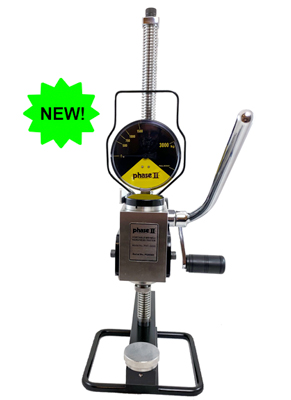 Model No. PHT-5050
The PHT-5050 Portable Brinell Hardness Tester has been engineered and built for durability, while maintaining accurate and repeatable Brinell hardness measurements. This versatile Brinell hardness tester can be used to take accurate Brinell hardness tests in any direction, up, down or sideways. And this hardness tester can act as both a bench type or portable hardness tester for use in the field. The PHT-5050 portable Brinell hardness tester meets all Brinell standards, including ASTM E-110, E-10 and relevant Brinell hardness tester standards from ISO, JIS and GB. Lifetime technical support is included on all Phase II Hardness Testers. So test away with confidence and a level of accuracy you will only find at Phase II.
The PHT-5050 portable Brinell hardness tester is easy to operate and small enough to carry to outside locations for on-site testing. This portable hardness tester can be used to test all sizes of parts and parts in any direction.
This portable Brinell hardness tester utilizes a 3,000 kg load on a 10mm carbide ball, which is available for reading or re-reading at any time.
The PHT-5050 portable Brinell hardness tester uses a hydraulic principle with hand-operation to apply the 3000kg test force. The central part of this portable Brinell hardness tester is a small hydraulic system in which a release valve is used to control the test force
Standard accessories for the portable Brinell hardness tester:
Calibrated test block
10mm carbide ball
Measuring microscope
3 anvils
USB stick(manuals/info)
Certificate
Carry case
Specifications:
Test Force: 3000kg (500kg, 750kg, 1000kg, and 1500kg are optional)
Accuracy of Test Force: 1%
Indenter: 10 mm carbide ball indenter (5mm ball optional)
Testing Range: 16-650 HBW
Max. Specimen Height: Approx. 13"
Throat Depth: Approx. 4"
Repeatability: ISO 6506/ASTM E110/ASTM E-10
Error: ISO 6506/ASTM E110/ASTM E-10
Net Weight: 32 lbs.
Optional accessories: Phase II PHT-5000 optical Brinell scanner for Brinell portable hardness tester
Check out these new hardness testers!
New Price List Available! Send email request to info@phase2plus.com
NEW PRICE LIST AVAILABLE APR 1, 2022
Product Line Update
Twin Rock/Superficial Rock Digital Closed Loop Hardness Tester with Auto Z axis

Model: 900-389
Notes: NEW!

Precision Coating Thickness Gauge w/ single Auto detect probe, memory, output & software

Model: PTG-5500
Notes: NEW!

Coating Thickness Gauge

Model: PTG-3725
Notes: Discontinued

Surface Roughness Tester

Model: SRG-2200
Notes: NEW!

Surface Roughness Tester

Model: SRG-2000
Notes: Discontinued
Calling All Calibration Labs
Phase II is looking to partner with leading calibration labs throughout the world. Phase II will add your company to our reference list. Provide any/all technical support on Phase II instruments and offer discount program for sales of Phase II product.
Call 201-962-7373
and get set up today!
---
DISTRIBUTOR CORNER:
NOTICE: Distributors: Have an annual open house? Let us know the date, time, and place. Phase II is actively looking to take part in the right events to promote brand and product. Send details to info@phase2plus.com
NOTICE: New Phase II MAPP pricing policy: View here
NOTICE: Digital Rockwell Hardness Testers will no longer include HRA test blocks as standard accessories. They will however be available as an option.
CHECK THESE PRODUCTS OUT!